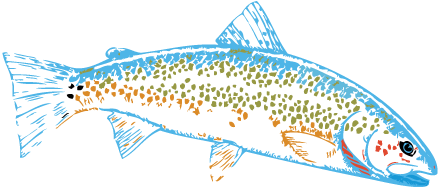 Welcome to Brown's Campgrounds
Our family-operated campgrounds in the Eastern Sierra are among the finest RV and tent-camping facilities in the Western United States.
We pride ourselves on cleanliness and friendly hospitality. We are here to offer you a clean and worry-free environment for your camping experience.
Camp conveniently at Brown's Town in Bishop, California, or at Brown's Millpond or Brown's Owens River Campgrounds just outside town near the Owens River and countless other incredible local attractions.
Bishop's most beautiful RV and tent-camping resort, with easy access to High Sierra trails, lakes and Bishop's premiere 18-hole golf course. Amenities and staff dedicated to quality service make Brown's Town a great location for a weekend escape.
Campsites: 150 grassy, shaded sites for tents and RVs. Electricity, cable TV, hot showers, clean restrooms and coin-op laundry.
Museum: Free to view daily is a replica of an Old West main street, with displays of antiques from Bishop's past. This quaint structure is part of the western town scene that depicts how life was once lived in these here parts. Put on your boots and hat, pardner, and don't let yourself get captured … except on camera. It's your 'get outta jail free' card.
Recreation: Horseshoe pits, TV room and kids' playground.
Cafè and Country Store: Specializes in hot and cold sandwiches, old-fashioned ice cream fountain, homemade pies, souvenirs, camping supplies and fishing tackle.
Location: One mile south of Bishop on U.S. 395.
Information: Call 760-873-8522 or write Brown's Town, Route 1, Bishop, CA 93514.
Bishop Country Club, right next door to Browns Town Campground, is a public eighteen-hole track complete with an expansive driving range and dedicated chipping and putting practice areas. Grab your clubs from your RV or rent from the friendly staff. If you're not a golfer, you can still enjoy a juicy burger with a beer at the restaurant. Small town hospitality, reasonable prices, great instruction and delightful, tree-lined surroundings. And the public is welcome. What could be better?
The Beautiful Owens River
Browns Owens River Campground
A fisherman's paradise! This campground has RV and tent sites in the meadow lining the upper Owens River, with unequaled fly, lure and bait fishing just steps from your campsite. For the nature lover in you, nothing compares to the panoramic views and breathtaking Sierra sunsets, featured nightly.
Facilities: 75 RV and tent sites, trailer rentals, coin op laundry, hot showers, handicapped facilities, camp store, cafe, ice, fishing tackle, wood and fire pits.
Recreation: Fishing, swimming, mountain bike trails, off-road trails, hiking trails, wide-open space for kite flying (no power lines for miles).
Location: Five miles east of U.S. 395 on Benton Crossing Road (exit at green church)
Information: Call 760-920-0975 or write Brown's Owens River Campground, 219 Wye Rd., Bishop, CA 93514.
Fishing, Fishing, Fishing
Beginner or pro? Spin fishing or flyfishing? No problem. We have the water to match your talents and expectations. Have your fun the way you want it: use a microscopic nymph to coax an old curmudgeonly brown out from under an Owens River bank, or troll a spoon on Crowley in search of a silvery rainbow. Of course, you'll have to do all this while being distracted by amazing scenery and fresh mountain air. But we're pretty sure you can handle it.
Browns Millpond Campground
Our family recreation facility is located off the highway next to Inyo's Millpond County Park. 60 RV and tent sites are nestled in the foothills of the High Sierra and backed by the cool-running waters of a creek. Bring the family to a relaxing getaway at Brown's Millpond Campground.
Facilities: Electricity, water, hot showers, handicapped facilities and coin-op laundry.
Recreation Areas: Ball fields, tennis courts, playground, fishing pond, horseshoe pits, hiking and mountain bike trails.
Location: Six miles north of Bishop on Sawmill Road.
Information: Call 760-873-5342 or write Brown's Millpond Campground, 230 Sawmill Road, Bishop, CA 93514.
The Glacier View Campground is located on the east side of Highways 395 and 168 at the north end of Big Pine. Highway 168 is the magical twisty road that lures you up to the oldest living organisms on earth. The Ancient Bristlecone Pine Forest is home to these 5,000 year old trees. The history, science and unique location of the Bristlecone forest is a wonderful excursion and we encourage you to take this trip.
"Easy access from 395. This campground has coin shower and flush toilet. Camp host is very kind and friendly!!"
Campsites:  sites for tents and RVs. Electricity, cable TV, hot showers, clean restrooms and coin-op laundry.
Location:  On the SE corner of U.S. 395 and Highway 168, just north of Big Pine.
Information: Call 760-872-6911 or write Brown's Town, Route 1, Bishop, CA 93514.
The Keoughs campground is located alongside the Keoughs Hot Springs. We have 10 water and electric sites featuring 30amp electric service. These sites are nestled among the foothills of the Eastern Sierra and local trees and most are on well maintained grass. We also have a number of Dry camping sites available.
Two week maximum stay. Use of generators is not permitted in the park. Fire pits are not supplied for these sites at this time, use of your own above ground fire pit is permitted.
We also have 4 Tent Cabins, 2 travel trailers, and two Modular Retreats available for rent, which include entrance to the Hot Springs.
Facilities: Electricity, water, hot showers, gift shop. Handicapped facilities.
Recreation Areas: Easy walk to the Keoughs Hot Springs facility
Location: 7.4 miles south of (Line Street) Bishop, turn west off of Highway 395 on Keough Hot Springs Road
Information: Call (760) 872-4670 or http://keoughshotsprings.com/
Hiking, Biking, Exploring…
Golf clubs, fishing rods, hiking shoes, climbing gear, mountain bike, swimsuit, sunglasses, sunscreen…have we missed anything? Oh, a camera. Don't forget the camera. We are always amazed how many people skip through the Owens River Valley on their way to Yosemite or Death Valley, not realizing that just a mile or two off the highway they could find similar adventure and beauty while completely avoiding the crowds.
Local Attractions
Natural hot baths and soothing minerals are the mortal enemies of stress. If you are the least bit overworked or uptight, or if you need to unwind after a long bike ride or hike, then Keough's Hot Springs is for you. Dip your aching feet into the warm water, then slip all the way in and feel your shoulders drop. Lay your head back, close your eyes and melt.  And float.  And float.  And smile.
Bishop Country Club
Lake Sabrina, South Lake, North Lake
Bristlecone Pines
Owens Valley Gorge
The Happy Boulders
Start your day with a hearty breakfast in Bishop, stop by one of our famous bakeries for sweet sustenance, and then…
Hang out for a while at the premier bouldering destination in the country.  Then tear down one of our many trails on your new fat bike.  Catch a trophy trout from a mountain stream so clear you can't tell how deep it is. Earn a PhD in Relaxation with a massage at Keough's, touch trees that predate Columbus and, finally, feel the exhilaration of a new perspective from high atop an Eastern Sierra mountain peak.
OK, that's enough for one day.  Now back to the nearest Browns Campground for a well-deserved rest.  You can start all over again in the morning.